Fueled by the Scholarship First Agenda, LSU's successes across Louisiana, both in athletics and academics, are shaping our state in remarkable ways. The accolades received in 2023 put Louisiana and its citizens on firmer footing for a brighter tomorrow.
LSU track and field athlete Jackson Martingayle has been named the Southeastern Conference H. Boyd McWhorter Scholar-Athlete of the Year for the 2022-23 academic year. The H. Boyd McWhorter Award is the highest academic honor earned by a student-athlete in the SEC.
Students from LSU Student Media outlets took home 15 awards for journalism excellence in the 2022 Region 12 Society of Professional Journalists (SPJ) competition.
LSU awarded 4,514 degrees to graduates at the university's 310th commencement exercises today. The spring graduating class represents 58 Louisiana parishes, 49 states and 62 countries.
Three LSU Manship School of Mass Communication students, Jessica Jefferson, Mea Morrell and Kyle Stanley, were among the 88 recipients of The LAGRANT Foundation's (TLF) 2023 Scholarship Program, which recognizes ethnically diverse students from colleges and universities across the nation for their academic achievement, mass communication career goals and community involvement.
LSU proudly announces the Tiger Twelve Senior Recognition Class of 2023. Class members were recognized at a ceremony on Saturday, April 29 held in the Capstone Gallery at Patrick F. Taylor Hall on the LSU campus.
The Network of Schools of Public Policy, Affairs, and Administration (NASPAA) recently hosted the 2023 Wildfire Simulation Competition via in-person and virtual events over several days.
LSU Campus Life awarded the 2022 Tom W. Dutton Scholarship to 10 female students who were nominated for their participation and leadership in campus and community service activities.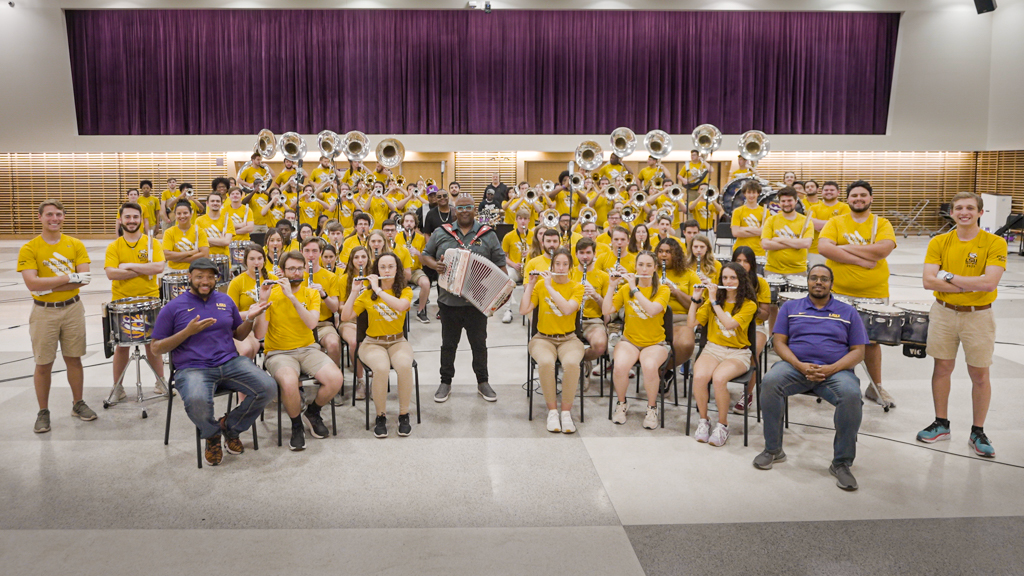 Four-time Grammy-nominated zydeco musician and LSU alumnus Sean Ardoin's new album, "Full Circle," which featured a historic collaboration with LSU's Tiger Marching Band, has been nominated for a Grammy award for Best Regional Roots Music Album, the Recording Academy announced Tuesday.
The E. J. Ourso College of Business Rucks Department of Management recognizes 10 students as Rucks Fellows each year. These students are selected by faculty and represent the highest level of academic achievement among senior management majors in any of the department's concentrations.